City Parks
City Parks for Every Age
Memorial Park
912 Washington
Just across from the Railroad Museum, Memorial Park is dedicated to veterans who lost their lives in foreign wars. It also contains a monument to the early settlers from Bukovina Austria. There are several items located in the park dedicated to the memory of local loved ones.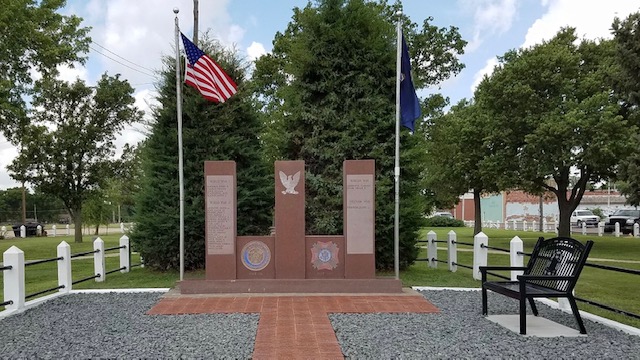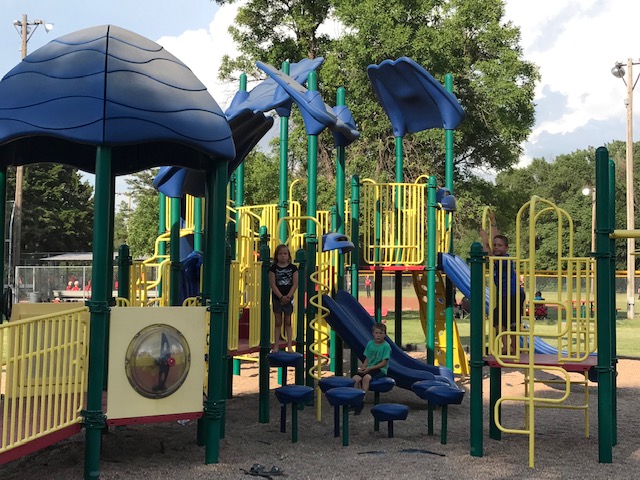 Playworld Park
200 East 9th
This beautiful and colorful park lies just behind the Railroad Museum. In addition to various playground equipment, it is also home to a very nice ball park. A restroom is also available.
Playworld Park and Memorial Park play host to Ellis' annual Easter egg hunt.
Walter P. Chrysler Park
1000 Dorrance
This shady park is home to some of the festivals in Ellis. Big Creek runs along the western edge of this park for easy access to fishing. There is a shelter house, restroom, playground equipment, charcoal grills and picnic tables in the park.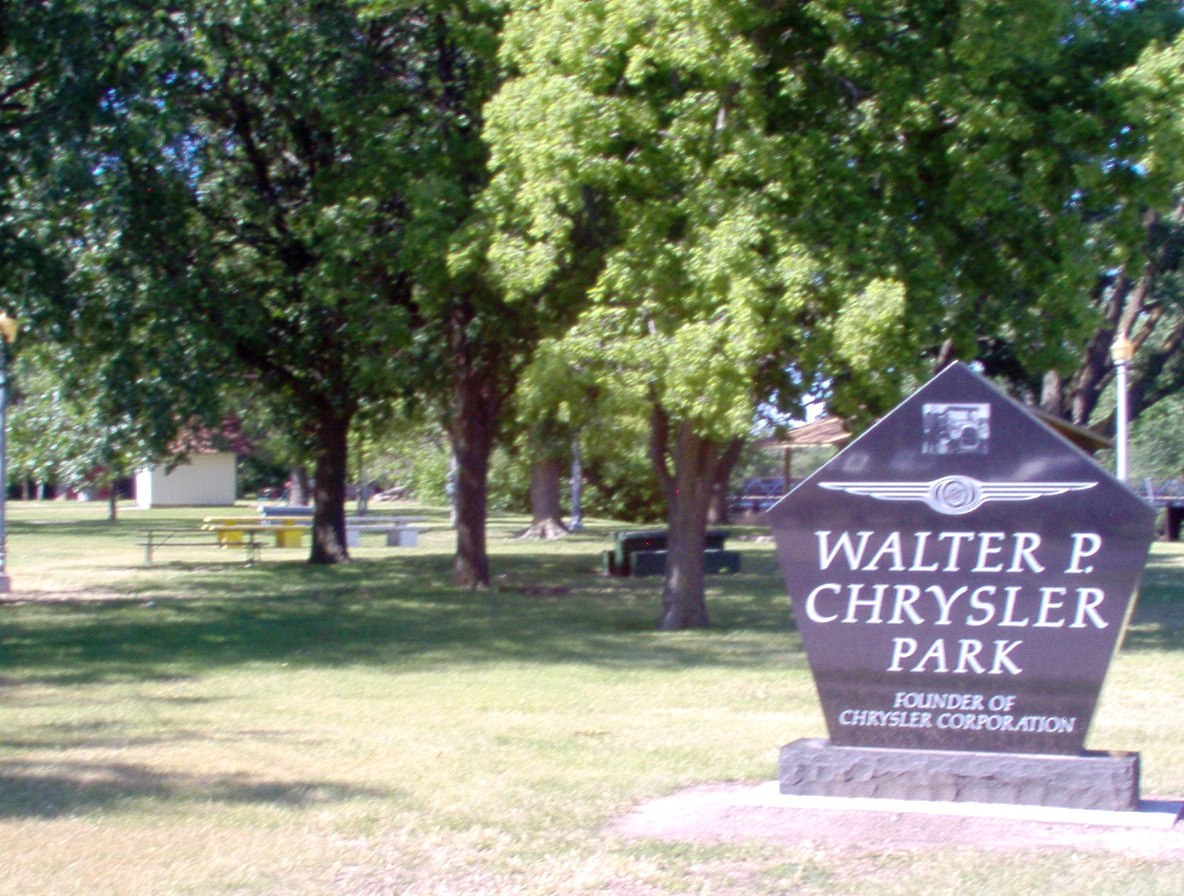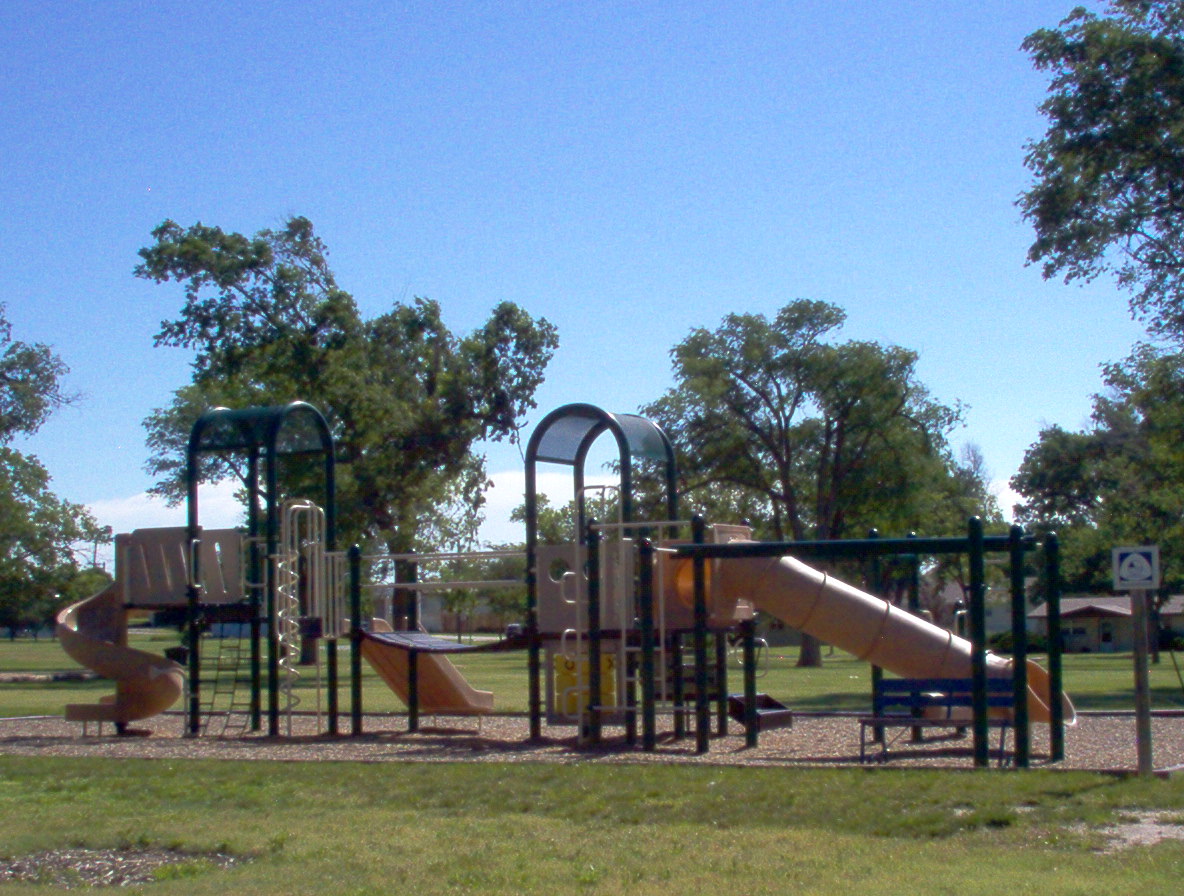 Creekside Park
500 Taylor
This park is located right beside the swimming pool, and features sand volleyball court, horseshoe pits, Frisbee golf course, remote control race course, Dennis Schoenthaler Memorial Walking Trail, playground equipment, restroom, and two baseball diamonds.
South Hill Kids Zone
2001 Walnut
Welcome to Ellis' newest park! It features playground equipment and a restroom in the new housing development area.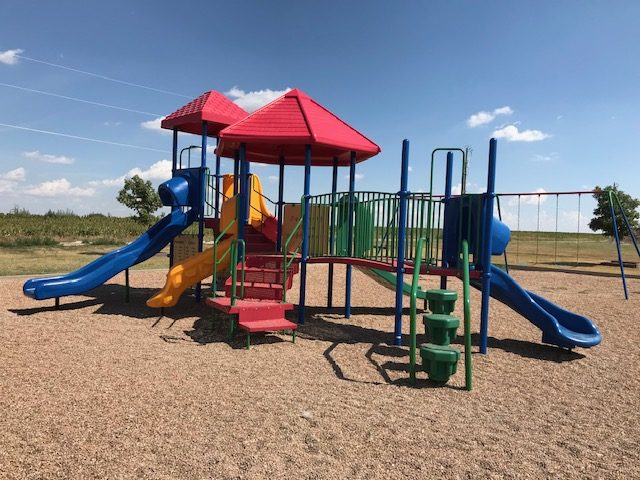 To Reserve a Park for a Special Event:
Complete the EVENT REQUEST APPLICATION and submit to the City Clerk's Office to reserve a park for your special event. If you are planning to sponsor music or other forms of entertainment at your event that will have a public auditory impact, also complete the NOISE PERMIT APPLICATION. If your event shall require traffic control, such as a parade, also complete the TRAFFIC CONTROL APPLICATION. All applications must be submitted to the City Clerk's Office at least two (2) weeks in advance of the scheduled event. Requests for events involving alcohol must be approved by the City Council prior to the event being held. All other requests will be approved in the City Clerk's Office. There is no charge for an application/permit.
Daily Admission
5 & Under………Free
6 – 12……………..$1.50
Over 12…………..$2.00
Daily Swim Passes
Students 6 – 12……..15-day pass………$21.00
Students 6 – 12……..30-day pass……..$40.00
Over 12…………………..15-day pass………$28.00
Over 12…………………..30-day pass……..$54.00
Regular Swim Lessons
Must be Age 5 or Older (as of June 1st)
1st Session
Deadline to Sign-up: June 16th
June 19 – June 30……Mon-Fri  10:00 a.m. – 10:50 a.m.
                                                     11:00 a.m. – 11:50 a.m.
2nd Session
Deadline to Sign-up: July 7th
July 10 – July 21.….Mon-Fri  10:00 a.m. – 10:50 a.m.
                                                 11:00 a.m. – 11:50 a.m.
Cost per Session for All Levels (I thru VI):
$25.00……First child in immediate family
$20.00……Second child in immediate family
$15.00…….Third child & subsequent children in                                     immediate family
Make a Splash
301 Taylor | 785.726.3130
Get your sunscreen, sunglasses and beach towels ready! We are super excited to welcome you to our new swimming pool. The Ellis Municipal Pool officially opens for the season at 12:30 pm on the first Tuesday after Memorial Day. Keep in mind, children under the age of eight, or those who have not passed level two of swimming lessons, will not be allowed into the pool without the supervision of a guardian at least fourteen years of age.
The pool features a zero entry with spray features, waterslide, diving board and regulation swim lanes. A handicap accessible lift chair is also available. Our goal is to provide a fun, safe place for all ages to escape the summer heat and enjoy a cool down!
Summer pool activities include swim lessons for all ages provided by our American Red Cross Certified lifeguards. Two evenings each week, water aerobics and open swim are available for adults. If it's a swim party you want, patrons and organizations can rent the pool in the evenings. For more details or to book a reservation, call 785.726.3130 during the pool season.
Hours of Operation
Every Day…….…12:30 p.m. – 6:00 p.m.
Mon & Wed……..6:00 p.m. – 7:00 p.m..…$3.00 Admission
                         (Water Aerobics & Adult Open Swim)
Opening/Closing Policy
If the water temperature is 70° or above at 12:30 p.m., the pool will open at the regularly scheduled time.
If the water temperature is less than 70° at 12:30 p.m., the pool will not open at that time. The water temperature will be re-evaluated at 1:00 p.m. If at that time the water temperature is 70 degrees or above the pool will open at 1:30 p.m. If it is not, the pool will remain closed for the day.
In the event of stormy weather, all patrons will be asked to leave the pool area for 30 minutes. If the weather does not clear, the pool will close at that time.
If management is notified by emergency personnel that severe weather is approaching, all patrons will be required to leave the pool premises immediately.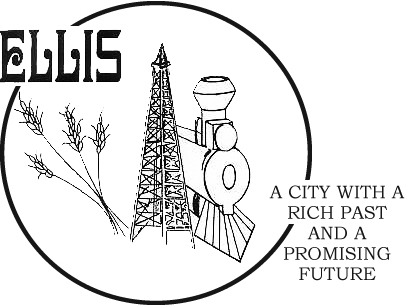 815 Jefferson, Ellis, KS
Email: ellisclerk@eaglecom.net
Clerk's Office Hours
Monday - Friday: 8am - 5pm
Emergency: 911
Police Non Emergency: 785.726.4462 (0) | 785.625.1011 (C)
Public Works: 785.726.4741 (O) | 785.726.1741 (C)