Campground
Take a break at Ellis Lakeside Campground
Take a break at Ellis Lakeside Campground
Exit 145 – 300 East 8th St.
Ellis is a friendly community of 2000 people, located on Interstate 70, halfway between Kansas City and Denver. The campground is only seven short blocks from Exit 145.
Nestled along the tree-shaded banks of picturesque Ellis City Lake on Big Creek, the campground provides travelers a convenient place to spend a quiet restful night. In addition to free Wi-Fi, picnic tables, charcoal grills and playground, the campground offers hot showers, water and electric hook-ups, common dump station, boat dock and fishing pier. A storm shelter is available nearby in the basement of Christ Lutheran Church.
Several shopping opportunities (restaurants and grocery) are mere blocks away. Also within easy reach are three beautiful city parks, three unique museums, miniature train ride, municipal swimming pool, public golf course, tennis courts, Frisbee golf course, and horseshoe pits. Ellis' peaceful streets provide an excellent venue for a leisurely evening of cycling or strolling.
The weekend campers are invited to worship at one of the local churches. Ellis also has an EMT ambulance and the police department provides 24-hour patrol service.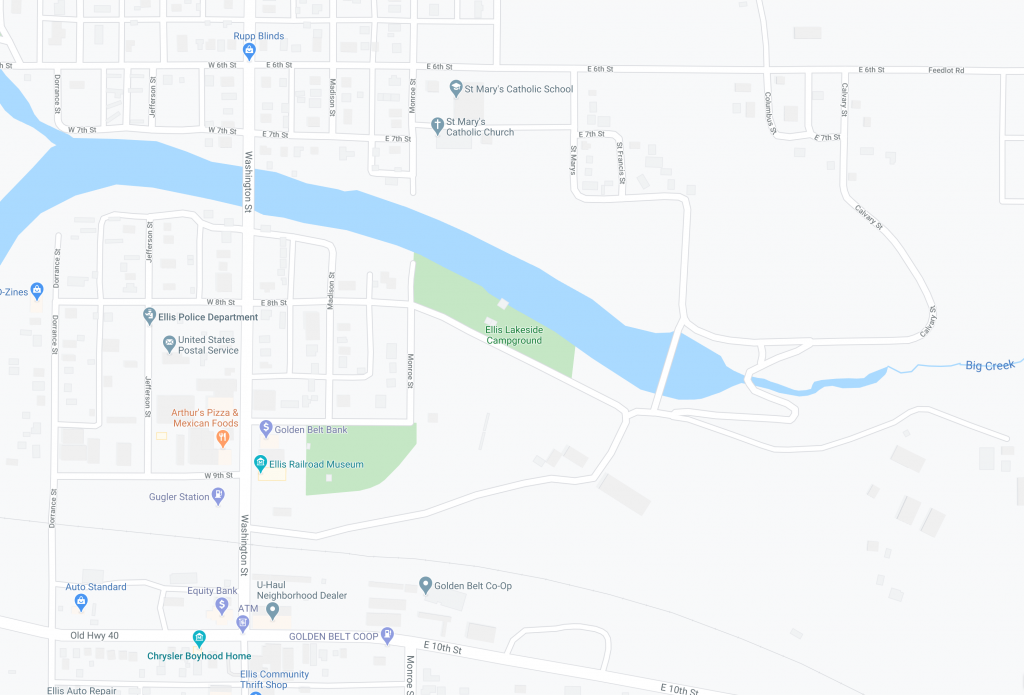 Everything you need
Rocked or Concrete Pad Pull-through Campsites
Shaded Grass Areas
Picnic Tables and Barbeque Grills
Bathhouse with Hot Showers (In Season)
30 & 50 Amp Electrical Hook-ups
Water Hook-ups (In Season)
Free Common Dump Station
Playground
Boat Dock and Fishing Pier
Storm Shelter
24-Hour Police Patrol Service
Free Wireless Internet
Self-Pay Station
Fees & Details
Fees are per day/night
We do not have an attendant on site, therefore all of our campsites are first come, first serve. WE DO NOT ACCEPT RESERVATIONS.
In Season 
Water is Turned On
April 15th to November 15th
$25.00 per Day/Night
Anyone parking in Electrical/Water Pull-through Sites 1-13 & Sites 16-25. (RVs, Pull-type & Pickup Campers, Tents, Vans, Electric Vehicles, etc.)
 $15.00 per Day/Night
PRIMITIVE Camping/Tent Area (no hook-ups) Sites 14 & 15 and EAST end of campground

Off Season
Water is Turned Off
November 15th to April 15th
$20.00 per Day/Night
Anyone parking in Electrical/Water Pull-through Sites 1-13 & Sites 16-25. (RVs, Pull-type & Pickup Campers, Tents, Vans, Electric Vehicles, etc.)
$10.00 per Day/Night
PRIMITIVE Camping/Tent Area (no hook-ups) Sites 14 & 15 and EAST end of campground

Methods of Payment
Self-Pay Box |

Next to Bathhouse

City Hall | 815 Jefferson


(In Clerk's Office or Night Drop Box)

Ellis Police Department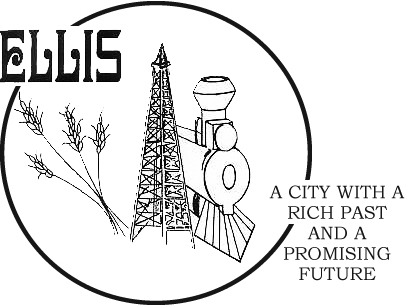 815 Jefferson, Ellis, KS
Email: ellisclerk@eaglecom.net
Clerk's Office Hours
Monday - Friday: 8am - 5pm
Emergency: 911
Police Non Emergency: 785.726.4462 (0) | 785.625.1011 (C)
Public Works: 785.726.4741 (O) | 785.726.1741 (C)